BAP Professional Partner Organization:
Grant Thornton LLP
BAP Professional Partner Representative: TBD
How to Leverage BAP Professional Partner Resources:
Grant Thornton can assist the student members of Beta Alpha Psi by presenting on career and technical related topics in the fields of Audit, Tax, and Advisory services. Grant Thornton also has expertise in soft skills training such as networking, interviewing, dining/business etiquette, social media etiquette, personal branding, etc. Leadership training is also a great way for Grant Thornton to help develop the incoming executive membership of BAP.
About Grant Thornton LLP:
Grant Thornton is collaborative, entrepreneurial and on the move. As part of a dynamic global organization of 47,000 people in 700 offices, serving clients in more than 125 countries, it has the agility and focus it takes to be a leader.
Grant Thornton is committed to capitalizing on its strengths and serving dynamic organizations that share the same values and drive. Their global values of collaboration, leadership, excellence, agility, respect, and responsibility guide their behaviors and fuel their ambition…to be the firm that makes a difference, every day.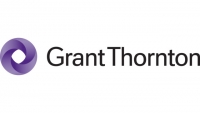 Representative Contact Information:
Grant Thornton, LLP
171 N. Clark Street, Suite 200 | Chicago, IL | 60601 | United States
(312) 856-0200
Website