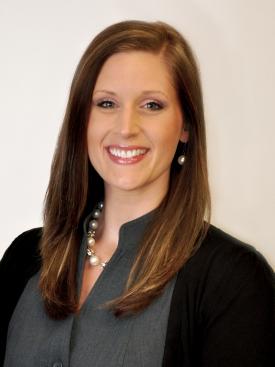 Rebecca Blough
BAP Professional Partner Association/ State Society:
AICPA (American Institute of Certified Public Accountants)
BAP Professional Partner Representative: Rebecca Blough
About the AICPA
The AICPA's 125-year history, boiled down to 23 words: Helping you enter the CPA profession and stay there, by connecting you to the people and information you need to succeed. (For those of you who noticed that was only 22 words, nice going.)

How does the AICPA do it? Pretty much every way you could imagine. It advocates on your behalf to regulators, legislators and the general public, letting them know how essential CPAs are to society. It provides continuing education opportunities to make smart accounting professionals even smarter. It launches websites like www.ThisWayToCPA.com to provide all the tips, insight and data you could ever want to know.

The AICPA also develops and grades the Uniform CPA Examination, so if you've taken it – or studied for it – you've seen the organization's work. It's all part of the AICPA's plan to build accountancy's reputation as a profession of individuals who are educated, ethical, and focused on serving the common good.
Benefits to Becoming a Member of the AICPA:
Becoming an AICPA Student Affiliate is something of a paradox – it's free, it's easy, and it takes all of five
minutes to do, yet you still get mucho perks as soon as you sign up. As in:
You're eligible to apply for scholarships that help you get into the CPA profession.
You get special discounts on conferences. (see sidebar for an example)
You also get exclusive offers and discounts through the Member Benefits Program. Partners include Dell, FedEx, Hertz, and many more.
You gain access to the AICPA News Update and CPA Letter Daily via email as well as the ability to access the online version of the Journal of Accountancy.
You can take the AICPA Competency Assessment Tool (CAT) to learn more about your strengths and how they apply to different specializations.
Plus there are the benefits that aren't quite free, but almost, and mega-valuable. These keep you updated on the latest information profession members need, from the authoritative source:
Access to the Essential Audit &Accounting Research Collection for $75/year, formerly known as the reSOURCE e-library. (Regular member price is $469)
Access to the Professional Standards, Tech Practice Aids and PCAOB Standards & Rules from the Essential Audit & Accounting Research Collection for $40/year. (Regular member price is $375)
Eligibility to purchase the online version of the Audit & Accounting Manual for $25. (Regular member price is $125)
Got all that? Good. Now get it – by signing up for your free membership.*
*The AICPA Student Affiliate membership is available for those who are part time or full time students who have not yet passed the CPA Exam.
How to Become a Member/Student Member of the AICPA
Becoming an AICPA Student Affiliate is super easy. Just go to www.ThisWayToCPA.com and click on the link that says "Join AICPA". It's on the left hand side of the page. And don't worry, this is really easy compared to the CPA exam!
About Rebecca Blough:
Rebecca is a Saint Bonaventure University graduate with a Masters in Business Administration, concentrated in Accounting. A native of the Buffalo, NY area, she started her career at Delaware North Company as a Staff Internal Auditor. There she studied the company's internal control systems, audited financial and operational processes, and developed SOX documentation. After internal audit, she moved to North Carolina and began her recruiting career at Robert Half International as a Recruiting
Manager. While there, she recruited and placed accounting, finance, and administrative professionals.

Rebecca joined the AICPA in 2010 and currently holds the title of Senior Manager of College and University Initiatives. Rebecca is mainly responsible for researching and developing new programs, products, or services to increase awareness of the CPA profession. One program she is heavily involved in is the AICPA's new website and community for college students, www.ThisWayToCPA.com. She is also responsible for developing, maintaining, and leveraging strategic partnerships with key organizations that provide services to college level accounting students.

Rebecca is honored to be attending this Beta Alpha Psi regional event and looks forward to meeting the attendees.
Representative Contact Information:
AICPA
220 Leigh Farm Rd
Durham, NC, 27707
919-402-4520
Email | Website