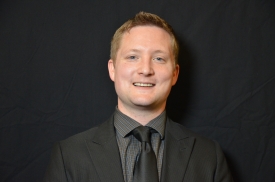 Tyler Skelton
BAP Professional Partner Organization:
Roger CPA Review
BAP Professional Partner Representative: Tyler Skelton
How to Leverage BAP Professional Partner Resources:
Roger CPA Review can serve members of Beta Alpha Psi by providing professional development presentations and consultations on the CPA Exam application process, structure and content, proven study techniques for passing the exam, networking and interviewing best practices, various paths for an accounting career, new hire professional etiquette and other relevant topics. Members are provided with free access to the Roger CPA Review Tutoring Center for assistance in their current accounting classes and receive exclusive Beta Alpha Psi discounts and scholarships.
About Roger CPA Review:
Roger CPA Review is dedicated to helping students successfully prepare for the CPA Exam with the industry's most Efficient, Effective and Enjoyable eLearning system. With a core belief that the key to success is enjoying what you do, each learning tool has been designed with special care to foster a study process that simultaneously delivers results and enjoyment. The Roger Method™ is a proven teaching approach in which lectures, texts and practice questions are broken down highly motivating micro-lessons that simplify difficult concepts while keeping students focused. For more information about Roger CPA Review, visit http://www.rogercpareview.com/.
About Tyler Skelton:
Tyler joined Roger CPA Review in 2013 and currently serves as the Business Development Manager, Pacific Northwest. Based in Seattle, Washington his primary focus is on developing key relationships with professionals, professors and students within the Pacific Northwest. He is a graduate of Central Washington University with a degree in Marketing. In his personal time Tyler enjoys traveling, attending sporting events, and can often be found providing the latest industry advice to students and professionals on Twitter and LinkedIn.
Representative Contact Information:
Roger CPA Review
2261 Market St. #333
San Francisco, CA 94114
207.747.8323