BAP Quarterly: Volume 8, Issue 1: Winter 2017
Record-breaking Food Drive
By Lambda Epsilon Chapter, Winston-Salem State University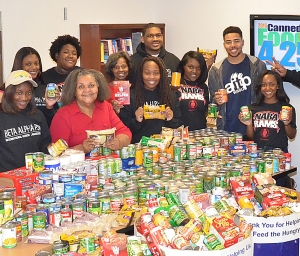 For the third time in four years, the Lambda Epsilon Chapter of Beta Alpha Psi (BAP) has collected over 3,000 non-perishable food items to assist Second Harvest Food Bank of Northwest North Carolina (SHFB). In its 2016 food drive, BAP eclipsed the 2015 record of 3,022 items by contributing 4,256 items. This brings the total weight of food collected since 2013 to 8,427 pounds. SHFB tracks the total weight of contributions as opposed to the number of items. Therefore, WSSU's 4,256 cans weighed in at 4,047 pounds—a true second-harvest to feed the needy in our community. The Fall 2016 campaign stands as the most successful effort in the four-year history of the project.
From October 17 to November 3, students from BAP, the National Association of Black Accountants (NABA) student chapter, and the Association of Information Technology Professionals (AITP) student chapter joined forces to conduct the record-breaking drive.
BAP's collection effort was the brainchild of Mary-Nina Ukariwo (2014) who served as president of the Lambda Epsilon chapter. She opened the opportunity for NABA and AITP to unite with BAP to make a difference in many lives and gain skills in the areas of teamwork and community engagement. Dr. Sylvia Bembry, MIS Professor and BAP faculty advisor, spoke of a key benefit of the drive: "Students learn to take responsibility for carrying a project to completion and they develop problem-solving and conflict resolution skills in the process. This was a success on a variety of levels."
SHFB Food Drive Coordinator, Joseph Kilar, noted that WSSU business-student contributions, this year alone, have surpassed the 2013-2016 totals of four regional counterparts: Elon University, Salem College, UNC School of the Arts, and UNC Greensboro. During that span, only Wake Forest University with 14,697 pounds and Guilford College with 8,588 pounds exceeded the weight of Lambda Epsilon chapter collections.
As to how BAP's efforts compare with those of other WSSU groups, Kilar states, "Business students, again, are at the top for bringing in donations." The combined efforts of WSSU groups have brought in 11,927 pounds since 2013.
Aside from the competition and the celebration of breaking a record, Dr. Lynette Wood, Chair of the Department of Accounting and MIS made this observation, "The greatest satisfaction comes from knowing that we as an organization made a significant contribution to the relief of hunger in Northwest North Carolina. But more important was the fact that we showed our students that giving is more powerful than receiving. Real social justice is in making a personal effort to lift those around us and real business is about being a strong, uplifting citizen who empowers individuals and communities to be both contributors and consumers."