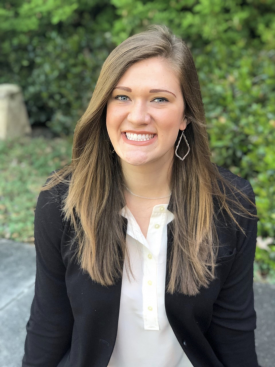 Hanna Glinn Traweek
Regional Alumni Representative: Southeast
Hanna Glinn Traweek is a Senior Associate in RSM's State and Local Tax Practice. She joined the Birmingham RSM team after previously working with PwC in the Birmingham office as well. Hanna Glinn serves a variety of clients in various industries including private equity groups, timber, and manufacturing. Hanna Glinn graduated from The University of Alabama at Birmingham with a Bachelors in Accounting in 2017 followed by a Masters of Accounting in 2018.
During her time at UAB, Hanna Glinn was a member of the Delta Chi chapter of Beta Alpha Psi and served as the Vice President of Activities. Following completion of her masters, Hanna Glinn served as the Alumni Representative for the West Region.
Hanna Glinn is proud to still be actively involved with Beta Alpha Psi to help students and faculty connect with current and previous members of the organization. Please feel free to reach out to Hanna Glinn for any alumni representative needs that may arise this year!
Contact Information:
Email: hanna.traweek@rsmus.com
Phone: 205.907.8145
LinkedIn: https://www.linkedin.com/in/hanna-glinn-traweek-753ba099/
Website: https://rsmus.com/