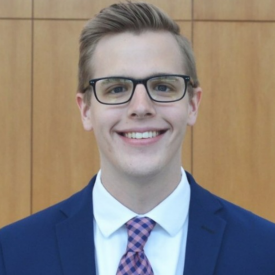 Mitchell Pinkerton
Regional Alumni Representative: Southeast
Mitchell Pinkerton is a Birmingham, Alabama native currently working as a staff accountant at Sinclair Broadcast Group. He has experience working in the non-profit, industry, and public realms of accounting. Mitchell obtained a B.S. in Accounting (2020) and M.S in Accounting (2021) from the University of Alabama at Birmingham.
During his time at UAB, he was a member of the Delta Chi chapter of Beta Alpha Psi. Mitchell served as the social chair and was later called to be the Vice President of Community Service. He is excited to represent the Southeastern Region of BAP.
Away from his professional life, Mitchell enjoys long-distance running. He has one marathon under his belt and is currently training for his second in Chicago. He also enjoys travelling, reading, and watching movies.
Mitchell wants to be a resource for both the students and alumni of BAP, so please reach out using the contact information below if he can be of assistance.
Contact Information:
Email: mpinkerton@sbgtv.com
LinkedIn: www.linkedin.com/in/mgpinkerton