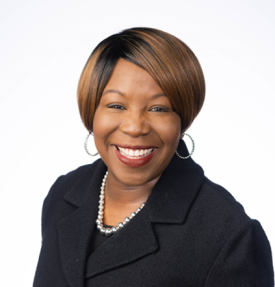 Kimberly Ellison-Taylor, CPA, CITP, CGMA, CIA, CISA
Past President
Kimberly Ellison-Taylor is a Global Technology and Finance leader with over 29 years of career achievements. She is the Chief Executive Officer of KET Solutions, LLC, a consulting firm focused on business growth, innovation, strategy, transformation and inclusive leadership. Ellison-Taylor is a sought after keynote speaker and has received many awards and recognitions for her expertise and leadership including Accounting Today's Top 100 Most Influential People in Accounting and CPA Practice Advisor's 25 Most Powerful Women in Accounting.
For almost 17 years, Ellison-Taylor served in global leadership roles for Oracle Corporation. Kimberly advised C-Suite Executives on cloud solutions that innovate and transform business. Ellison-Taylor is also an adjunct professor for Carnegie Mellon University's Chief Information Officer Certificate program teaching Emerging Technologies & Innovation.
Other professional achievements include tenure at Prince George's County Government, KPMG, Motorola, and NASA Goddard Space Flight Center. Ellison-Taylor has an undergraduate degree in Information Systems from the University of Maryland Baltimore County, a MBA from Loyola University, an Accounting Certificate from Baltimore County Community College and a Master of Science from Carnegie Mellon University in Information Technology Management as well as a Chief Information Officer certificate. She is a Certified Public Accountant, Certified Global Management Accountant, and Certified Information Systems Auditor.
Kimberly has volunteered in the profession for over 20 years including leadership positions as Chairman of the American Institute of CPAs, Chairman of the Association of Certified Professional Accountants, and Chairman of the Maryland Association of CPAs. Kimberly is also the Chair-elect for the AICPA's National Commission on Diversity and Inclusion and is also the incoming President-elect for Beta Alpha Psi.
In her personal life, Kimberly is also committed to volunteerism and has served in various leadership positions, including President for her local chapter of Sigma Gamma Rho Sorority, Inc., a community service organization that serves women, youth, and families, seniors and the military. Her personal reflection is To Whom Much is Given, Much is Required.
Ellison-Taylor is married to her college sweetheart, Darius Sr and they have two sons Dominic, a high school junior and Darius II, a college freshman.
Contact Information:
Email