About Beta Alpha Psi
Founded in 1919, Beta Alpha Psi is an honor organization for financial information students and professionals. There are over 300 chapters on college and university campuses with over 300,000 members initiated since Beta Alpha Psi's formation.
Objective
The primary objective of Beta Alpha Psi is to encourage and give recognition to scholastic and professional excellence in the business information field.
This includes:
promoting the study and practice of accounting, finance and information systems,
providing opportunities for self-development, service and association among members and practicing professionals,
and encouraging a sense of ethical, social, and public responsibility.
Organization
Beta Alpha Psi is governed by a constitution and bylaws.
The governing body is the Board of Directors.
Funding
Beta Alpha Psi gains a portion of its annual budget from a charter maintenance fee and a one-time initiation fee.
Although there are other minor revenues from royalties and interest on investments, the bulk of the receipts come from contributions from industry, consulting and professional service firms.
Emblem
The emblem of Beta Alpha Psi denotes the promise of careers for financial information professionals. The rising sun signifies these professional positions as rising ever higher among economic activities. The crossed keys symbolize knowledge as a means of opening the doors of the financial world. The letters Beta, Alpha, and Psi denote scholarship, social responsibility, and practicality, respectively.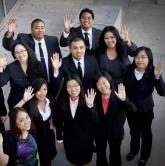 Did you know?
1919
11 members were initiated into the first BAP chapter.
1937
First African-American member, William L. Camfield, initiated.
1950
First female member, Jeannine Skelton (McKee) initiated.
1954
Initiation fee was $7.50.