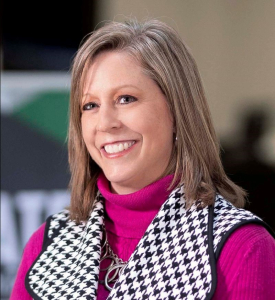 Rebecca Goessel
Director At-large for Diversity, Equity & Inclusion
Rebecca "Becky" Goessel, CPA, CGMA, is a business leader in assurance, accounting and accounting education. She received her Master of Professional Accountancy as well as her Undergraduate degree from Clemson University. Currently, Rebecca is a Senior Instructor for the University of South Carolina Upstate. Before joining the faculty at USC Upstate, she was a practitioner both in Big Four Accounting as well as a Chief Financial Officer, Director of Finance and Corporate Accounting Manager in Industry.
She is an actively licensed CPA, as well as Chartered Global Management Accountant (CGMA). She has a strong background in education, assurance BIG Four accounting, auditing, financial analysis, month-end closing, financial reporting, corporate budgeting, management reporting and financial consulting.
Rebecca remains active in the business community through Global CFO Council, South Carolina Association of Accounting Educators (SCAAE), Board and Committee positions with the South Carolina Association of CPA's (SCACPA), as well as part of the Education Committee of the South Carolina Board of Accountancy.
She has a strong passion for financial literacy. She designed a proprietary lunch and learn course for college students and the community to help strengthen financial literacy. She also worked with her SCACPA, Piedmont Chapter Board, to help donate to the local Children's Museum- a financial literacy exhibit and consulting on a financial literacy program targeting disadvantaged members of the community.
She has been involved with Beta Alpha Psi since she was an officer of the Zeta Rho Chapter at Clemson University. Beta Alpha Psi's impact influenced Rebecca to install the Xi Alpha Chapter of Beta Alpha Psi at USC Upstate in May 2017 as well as serve as the faculty advisor ever since then.
Contact Information:
Email