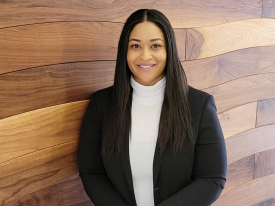 BAP Professional Partner Representative:
Jasmine Jenkins, Student Programs Manager
NASBA Center for the Public Trust
BAP Professional Partner Association/State Society: National Association of State Boards of Accountancy
About NASBA & NASBA CPT:
Founded in 1908, the National Association of State Boards of Accountancy (NASBA) has served as an association dedicated to enhancing the effectiveness of the country's 55 state boards of accountancy for more than 100 years. As a driving force within the accounting profession, NASBA accomplishes its mission by creating a forum for accounting regulators and practitioners to address issues relevant to the viability of the accounting profession. NASBA takes pride in offering its member boards a rich portfolio of products and services, all designed to effectively aid boards in their goal to protect the public.
The NASBA Center for the Public Trust (CPT) also continues to develop and positively impact the ethical climate of business by hosting training events and awards programs recognizing outstanding ethical individuals and organizations.
About Jasmine Jenkins:
Jasmine Jenkins serves as the Student Programs Manager and is responsible for all NASBA Center for the Public Trust's (CPT) student-related programs and events such as the Student CPT Chapter Program, Ethics in Action Video Competition, Campus Being a Difference Awards, Ethical Leadership Certification Program, Lead with Integrity series, and the Student CPT Leadership Conference.
Prior to joining the CPT, Jenkins worked at Mercedes-Benz, where she helped improve engagement and relationship building in order to recapture customers and drive retention. She also worked at Kaiser Permanente as a Hospital Courier Manager, preparing over a hundred plus drivers for their daily route with the necessary resources to help the organization create time efficient schedules for specimen pickup and drop off. While at Mercedes-Benz and Kaiser Permanente, Jenkins created strategic plans and led trainings focused in areas of public relations, risk management, recruitment, and leadership development.
Jenkins has mentored graduating collegiate student-athletes with the Nevada Student-Athlete Advisory Committee (SAAC). Jenkins helped enhance the total student-athlete experience by promoting opportunity, protecting student-athlete welfare and fostering a positive student-athlete self-image. In addition, she encouraged and provided opportunities for student-athletes to be involved in community service and have a voice on issues impacting the student-athlete experience. Jenkins fostered increased communication between student-athletes, the athletic administration and the faculty athletics representatives.
A California native, Jenkins was a collegiate student-athleete at the University of Nevada, Reno while receiving a Bachelor of Science in Human Development and Family Studies. Jenkins recently located to Nashville and began her work at CPT.

Representative Contact Information:
NASBA & NASBA Center for the Public Trust
150 4th Avenue North / Nashville, TN, 37219
615.312.3772
Email: jjenkins@nasba.org
Website