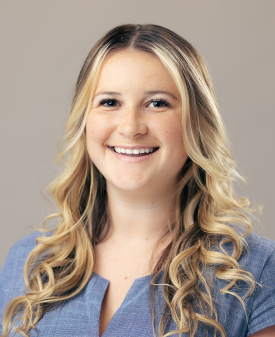 Danielle Bradley
Director At-large for Operational Sustainability
Danielle Bradley is a Consulting Senior Manager in MGO's Credits and Incentives group. Danielle has specialized in consulting, primarily for software, technology and life science companies, for over 7 years. Danielle advises a wide range of companies, from start-ups to Fortune 100 businesses, in order to save her clients more than one billion in credits and incentives annually. Danielle leads the management and growth for all west coast based clients for MGO.
She resides in Seattle, WA where she has worked previously for both Moss Adams and KPMG. She also has extensive experience working with various industries and roles within the accounting and finance profession through her work in government as well as private industry conducting internal audits, general ledger accounting, and federal and state tax compliance work.

Danielle graduated from Pacific Lutheran University (Delta Rho Chapter) with a B.B.A in Accounting in 2016 and an M.B.A with an emphasis in Technology and Innovation Management in 2017. She is an Enrolled Agent and represents clients before the IRS for federal tax credit and payroll tax credit claims, as well as before state governments for state credit claims.

Danielle is returning to the Beta Alpha Psi Board of Directors, as she served as the International Alumni Representative from 2018 - 2020, helping create and launch the Alumni and Member Network. Aside from her role as a leader in R&D tax credit claims, she also is a part of the innovation team at Moss Adams, striving to create solutions that improve process efficiency and user experience. She is looking forward to leveraging her technology and innovation skills, paired with her passion for Beta Alpha Psi, to create and drive forward notable improvements and enhancements in her role as the Director At-large for Operational Sustainability.

In her personal and professional life, Danielle is very committed to volunteerism and has served in numerous leadership positions, including as committee leaders for her firms' Women's and Veteran's Business Resource Groups, a committee leader for multiple industry organizations in the technology and software space in Seattle and the West Coast, an alumni mentor for her alma mater, and is passionately involved with her local Habitat for Humanity and animal sanctuary and conservation groups for habitat restoration.
In her personal life, Danielle manages a hobby farm that donates chicken and duck eggs to the community and those in need, as well as assists with rehabilitation of feral kittens who have lost their family to natural causes.
Danielle is very passionate about representing all stakeholders of the organization and will work diligently in order to make sure that their voices are heard and understood on the Board of Directors. Please reach out with any questions, guidance, or suggestions.
Email: DBradley@mgocpa.com
LinkedIn | Website