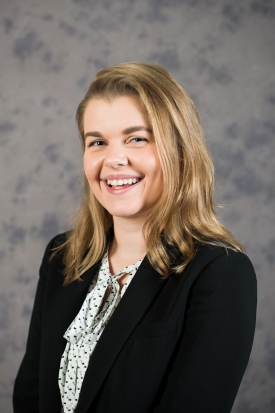 McKenzie Gravitt
International Alumni Representative
McKenzie Gravitt is a Senior Financial Analyst with the Milton Hershey School in Hershey, Pennslyvania. Prior to that she was a Senior Associate in KPMG's Business Tax Services group. She joined the Harrisburg office after moving to Hershey, PA and previously worked for EY in Birmingham, Alabama. McKenzie has experience working with clients in a variety of industries including mining, manufacturing, real estate, banking, and food and beverage. McKenzie graduated from The University of Alabama with a B.S. in Accounting and Finance in 2017 and a Master of Tax Accounting in 2018.
During her time at UA, McKenzie was a member of the Alpha Beta chapter of Beta Alpha Psi. She served as the chapter's Service Coordinator and was later elected President. Following graduation, she also served as the 2018 – 2019 Southeast Regional Alumni Representative and the 2019 – 2020 Alumni Taskforce Chair.
McKenzie is proud to represent the students and alumni of Beta Alpha Psi, and will continue to ensure that their voices are heard on the Board of Directors. Please reach out with questions, guidance, or suggestions using the contact information below.
Contact Information:

Email: gravitt.mckenzie@gmail.com
Phone: (423) 582-0928
LinkedIn: www.linkedin.com/in/mgravitt