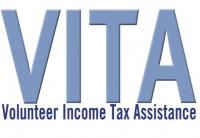 Volunteer Income Tax Assistance
Sponsored by VITA
Deadline: Friday, May 10, 2019
Overview
The VITA Program is an excellent opportunity for Beta Alpha Psi chapters to gain exposure on campus and in the community. As an added benefit, chapter members that volunteer gain valuable practical experience in income tax preparation which is a life skill.
Prize/Award
Alternate Filing Award – Recognizes BAP chapters that participated in the Facilitated Self-Assisted (FSA) and/or Virtual (Domestic) VITA models.
Return Preparation - Recognizes BAP chapters that prepared more than 500 returns (combination of Traditional, FSA, and/or Virtual, and 1040NR/EZ)
Regional Award - Recognizes regions that have at least 40% chapters participation in VITA Program
Volunteer Hours – Recognizes the top three BAP Chapters with the most VITA volunteer hours.
1) Sites coordinated by BAP Chapter
2) Sites coordinated by community partner
Superior Award – Presented to the best performing BAP chapter that excelled in VITA return preparation and volunteer hours.
Eligibility
All chapters are eligible to participate in VITA.
Process
VITA has two ways for chapters to participate:
Traditional– Chapter members provide free income tax preparation assistance to chapter members, students, and the community. These sites are generally located on campus.
Facilitated Self Assistant (FSA) – Allows students to prepare and electronically file their own tax return with the aid of a VITA certified volunteer, if needed.
Award Process
Winners are determined by the IRS.
Contact
Reports
VITA Reports are due Friday, May 10th by 11:59 PM EDT. Please complete the form here.
Other Information
For those participating the traditional way, please refer to the IRS Volunteer Site Coordinator Handbook for guidance.